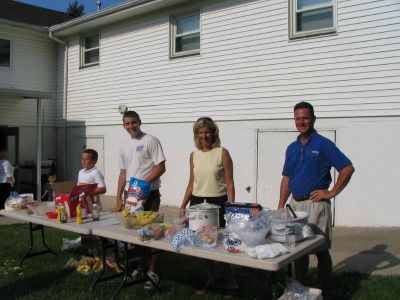 Centerville Child Development Center was founded by Joe and Cathy Valentour in April of 1988. Valentour Education Systems, Inc. was formed to manage the day to day operations in 1991. Joe and Cathy are involved in the daily operations currently.
The Valentours have four children who have graduated from Centerville High and Alter High Schools.   They have graduated from or are attending the University of Cincinnati, Ohio University, The Ohio State University and the University of North Dakota. They have two grandsons who live in North Carolina.
Joe and Cathy own a small farm in Indiana, their main crops are apples, honey and rocks.
IN THE PICTURE: Our first customer.   In April of 1988 we started CCDC with our son JC Valentour.  He has now graduated CCDC, high school too!   (And now college)  He is standing second to the left between his brother Duke and mother Cathy.
Get In Touch
Get in touch using any of the methods below:
Phone
937-434-5949
Snail Mail
Centerville Child Development Center
8095 Garnet Drive
Centerville, Ohio 45458-2140
Email
Email us at [email protected] using your email program.